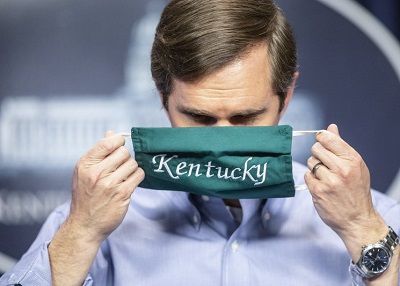 On Wednesday, Gov. Andy Beshear reported 546 new cases of coronavirus (COVID-19) have been confirmed in Kentucky over the previous 24 hours.
Those cases increase the number of COVID-19 victims in the state to 32,741. Over the last 26 days, Kentucky has had 13,914 cases of the virus confirmed, an average of 535 per day.
Of the new cases, 22 are children five-years-old and younger, including seven babies under one-year-old, officials said. Kentucky now has had 336 children in that age group diagnosed with the virus over the last 23 days (14.6 per day).
Beshear, as he did yesterday when 700 new cases were reported, struck an optimistic tone concerning Kentucky flattening the curve through the use of face coverings.
"I believe you are doing the right thing; the vast majority of people are wearing a face covering and it is making a difference," the governor said. "It looks like we are stopping a very dangerous situation from occurring and we need to keep it up. "Today's number strongly suggests, and I believe, it's evidence that face coverings are working. Proving that even when other parts of the country may be escalating out of control, that we can still control our own destiny here in Kentucky with a small act that shows we care about each other."
The positivity rate rose slightly on Wednesday to 5.51 percent after the rate checked in at 5.24 percent on Tuesday.
Officials reported one new death Wednesday, a 71-year-old Logan County woman, raising the total to 752 (2.3 percent) Kentuckians lost to the virus.
Since the beginning of the pandemic, 3,903 (11.9 percent) people have been hospitalized, with 620 patients currently in a hospital. To date, 1,239 (3.8 percent) victims have been treated in ICU, with 131 people currently in intensive care.
At least 8,467 (25.9 percent) people have recovered from the virus, and 663,100 coronavirus tests have been performed in Kentucky.
By Ken Howlett, News Director
Contact Ken at ken@k105.com