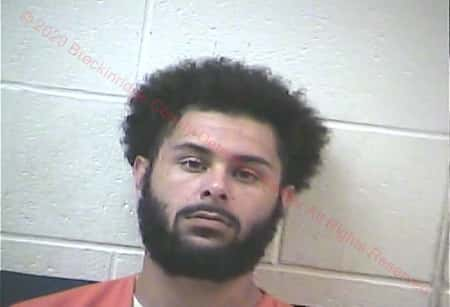 A Louisville man is in jail on murder charges in connection to a Thursday morning double-homicide in Breckinridge County.
Kentucky State Police spokesman Scotty Sharp said state police was contacted by the Breckinridge County Sheriff's Office at 1:09 a.m. Thursday morning requesting assistance with a death investigation at 257 Blackberry Circle Lane in Garfield.
At the scene, detectives determined that Steven R. Gann, 45, of Garfield, and Jacob R. Loeffler, 26, of Elizabethtown, had been shot multiple times and were pronounced deceased by the Breckinridge County Coroner's Office.
Sharp said that KSP, with assistance from the Breckinridge County Sheriff's Office, located the suspect Montez D. Johnson, 28, of Louisville, at an apartment in Louisville. At the apartment, KSP and the Louisville Metro SWAT team arrested Johnson without further incident.
The suspect was charged with two counts of murder and lodged in the Breckinridge County Detention Center.
In addition to the Breckinridge County Sheriff's Office and Louisville police, KSP was assisted by the Hardinsburg Police Department, Irvington Police Department, and Breck County EMS.
By: Sam Gormley, Local News