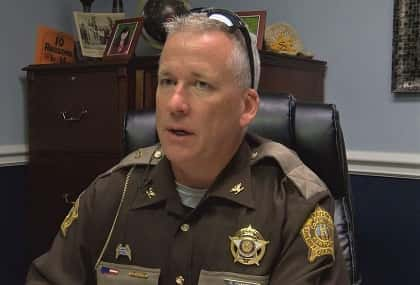 So far in 2020, the Grayson County Sheriff's Office has experienced a 410 percent increase in DUI arrests compared to last year.
"The first half of 2020 activity shows significant shift in multiple areas of law enforcement for the Grayson County Sheriff's Office," Sheriff Norman Chaffins said, "with the most significant increase the number of DUI arrests."
The sheriff said between January and June of 2019, his office made 17 DUI arrests. For the same period in 2020, his deputies made 87 DUI arrests, an increase of 410 percent.
Written citations decreased by 264 percent from 2019 to 2020, as 3,650 citations were issued last year compared to 1,001 in 2020.
"Our deputies were instructed to reduce the number of traffic enforcement stops to limit the number of face-to-face contacts with citizens, to do our part in slowing the spread" of COVID-19, Chaffins noted.
Criminal arrests also declined "due to the virus," according to the sheriff, as the GCSO saw arrests drop by 28.1 percent, with Chaffins adding, "It should be noted that the decrease in arrests was primarily from not being able to serve out of county/state warrants."
The GCSO, according to Chaffins, answered 812 more calls for service than last year, a 17.3 percent increase (4,827 to 4,015). The sheriff's office also saw increases in criminal cases worked (48.2 percent), collisions (3.3 percent), vehicle inspections (11.4 percent), and extra patrols (12 percent).
"… These statistics fall right in line with the effects of this pandemic," Chaffins noted. "In other words, calls for police response have increased, impaired driving arrests have increased and services we provide for our citizens have decreased. The increase in calls for service can be credited to our deputies answering more and more domestic violence calls, welfare checks, and neighbor disputes largely due to the effects of the pandemic restrictions."
The sheriff said that his deputies will continue to look for impaired drivers, unbelted drivers/passengers and will conduct traffic safety checkpoints at agency approved locations throughout Grayson County for the month of August and the rest of 2020.
"Additionally, we will continue to work with the Greater Hardin County Narcotics Task Force to put drug dealers behind bars and continue to focus our patrol duties on the detection and apprehension of those that sell drugs on our streets," the sheriff said.
Ken Howlett, News Director
Contact Ken at ken@k105.com