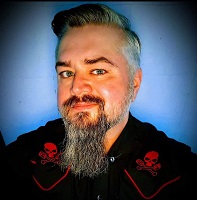 Ellis Wayne Souders, 42, of Bowling Green passed away Saturday September 5, 2020 in Bowling Green.
The Edmonson County native was an employee of General Motors Corvette Assembly Plant and a volunteer for various local civic organizations. He was a son of the late Melinda Souders.
Public walk-through visitation will be 11 AM-2 PM Saturday at Gravil Funeral Home. Funeral services will be private. Burial will take place in Sweeden Cemetery.
Surviving are two brothers, Harley Milburn of Kissimmee, FL and Branden Souders (Leslie Johnson) of Brownsville; grandfather, Paul Souders (Kathryn) of Brownsville; and four nephews, Liam Milburn, Dylan Milburn, Cody Johnson and Jordan Johnson.