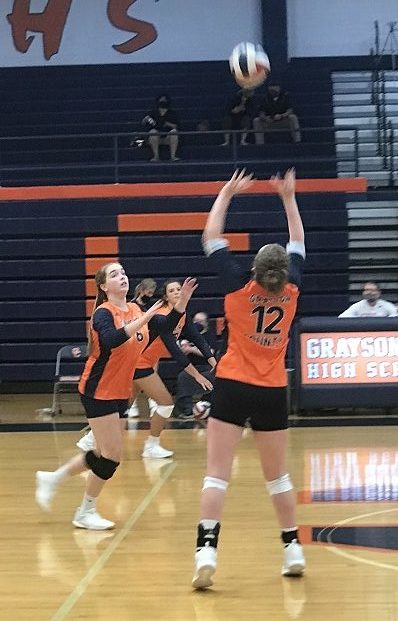 The Lady Cougar volleyball team opened its 2020 season on Tuesday with a big, 3-1 (25-17, 27-25, 17-25, 25-21) win over visiting Meade County, one of the teams selected as a pre-season favorite in the 3rd Region.
Grayson County led the entire way to take the first set. Senior Chloe Cox put away a kill at set point to give the Lady Cougars the first set, 25-17.
The Lady Cougars fell behind by seven points, 7-14, in the second set before staging a big comeback. Cox had a kill to give the serve back to the Lady Cougars, then she served six straight points, including a pair of aces, to tie the score at 14-14 and put her team back in the set.
Meade had a set-point at 25-24, but senior Kenzie Skaggs dinked a ball into an open area to tie it 25-25. Cox served an ace to give the Lady Cougars a set-point before winning the next point to give the Lady Cougars a two-set lead.
Grayson County led 6-5 in the third set before Alandria Lee served three straight to give the Lady Waves a lead they would not give back. A Grayson County hitting error at set point gave The Lady Waves the third-set win 25-17.
The final set was a back-and-forth affair after the Lady Waves opened by scoring the first three points. The Lady Cougars took their first lead at 10-9 with senior Brieanna Boll serving. Boll served two more points before giving up the serve.
With the score tied at 18-18 and Skaggs serving, senior Ella Robinson had a kill, Skaggs served an ace and a Meade hitting error gave the Lady Cougars a 21-18 lead. They would nor trail again. Cox put away a kill at match-point and the Lady Cougars had the win.