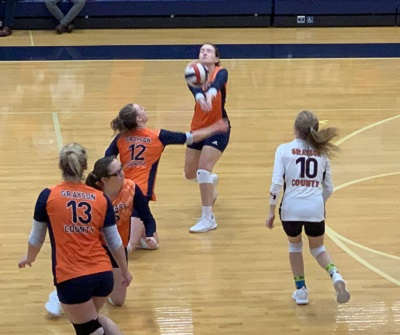 The Lady Cougar volleyball team moved to 2-0 on the season Thursday at the Cougar Den as they defeated the Edmonson County LadyCats in straight sets, 3-0 (25-22, 25-16, 25-16.)
Seniors Ella Robinson and Chloe Cox led the Lady Cougar attack with 14 kills apiece. Senior Libero, Bailey Richardson, led the team with seven digs and she added three service aces. Senior Kenzie Skaggs added seven kills, and senior setter Brieanna Boll led the team with 25 assists.
The Lady Cougars trailed in the early going of the first set and took their first lead at 9-8 on an ace by Cox.
Following a Cox kill, the Lady Cougars served a set-point at 24-18, but a service error gave the LadyCats the serve. They then reeled off three straight points to close to within two points of the lead, 24-22, but Cox put away a kill to give the Lady Cougars the first-set win.
After trailing in the early going of the second set, the Lady Cougars scored four straight points, including two aces by Skaggs and a kill by Robinson, to grab a 6-3 lead and they never trailed again.
A LadyCat hitting error on set-point gave the Lady Cougars the win for a two-set advantage.
Tied at 4-4 in the third set, the Lady Cougars scored three straight to take control. They quickly increased the lead to 11-5 following a combined block by Cox and sophomore Lillie Payne.
The LadyCats closed to within two points of the lead, 14-12, before a Robinson kill ended a run. The Lady Cougars then scored the next three points to push the lead back six points, 18-12.
A Cox kill moved it to match-point, 24-16, when an Edmonson hitting error gave the match to the Lady Cougars.
By Don Brown, Local Sports
Reach Don at donbrown@k105.com