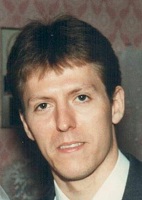 Carlos Linn Miller, 52, of Burlington passed away at 1:12 AM Saturday Sept. 12, 2020 at Norton Brownsboro Hospital in Louisville.
The Edmonson County native was a 1986 graduate of ECHS, held bachelor's degrees from WKU and WGU, a master's degree from WKU and was a health care administrator. He was a son of Carlos Ray Miller and Allene Lindsey Miller of Brownsville, who survive.
Visitation will be 11 AM-1 PM Monday at Gravil Funeral Home. Funeral services will be private. Burial will take place in Sunny Point Cemetery.
Also surviving are his wife, Svitlana Bilortitskaya Miller; three brothers, Travis Miller of Brownsville, Lamar Miller (Kim) of Smiths Grove and Richard Miller (Julie) of Nashville; and several aunts, uncles and cousins.