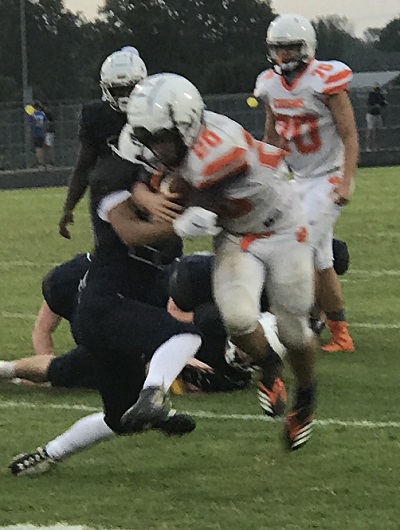 The Grayson County Cougar football team opened its season last Friday night by defeating Thomas Nelson in Bardstown by a score 0f 26-6.
Senior running back Caden Woodcock amassed 233 yards on 36 carries for the Cougars and had one touchdown on the night. Senior Mason Miller carried seven times for 21 yards and scored twice. Junior wide receiver Hunter Tomes caught a 14-yard touchdown pass from junior quarterback Kaylor Decker for the other score.
The Cougars got off to a slow start after fumbling the ball away on its first two possessions. That allowed the Generals to score the first touchdown of the game on a one-yard run by Dalton Steere at the 5:23 mark of the first period. The extra-point try failed but the Generals led 6-0 .
The Cougars answered back after taking over at their own 30 yard line with 1:24 left in the first period. They moved 70 yards in nine plays with Woodcock carrying in from the 19 with 9:45 left in the second period. A try for two failed and the score remained tied at 6-6.
The Cougars took over the ball with 1:51 left in the first half and quickly moved in for another score. On first down, running back Hunter Felty completed a 33-yard pass to Tomes, good for a first down at the Generals' 30 yard line.
Woodcock ran for six yards before penalties moved the ball to the General 14. On the next play, Decker hit Tomes in the end zone to make it 12-6 with 1:15 left in the half.
Grayson County's Hunter Tomes pulls off his best Randy Moss impression with an impressive catch on his shoulder. #SCTop10 #GoCougs pic.twitter.com/0VFQyspHzl

— Cougar Sports on K105 (@K105sports) September 12, 2020
The Generals went three-and-out to open the second half and the Cougars responded with a 13-play, 52-yard drive to take an 18-6 lead, Miller carried in from a yard out with 3:29 left in the third period.
Grayson County took over at their own 31-yard line with 11:20 left in the fourth quarter and moved 69 yards in eight plays for the final score of the evening. Miller carried in from the two with 6:25 remaining to be played before Woodcock carried in for a successful two-point conversion to make the final score 26-6.
The Cougars play their home opener this coming Friday when they play host to the Breckinridge County Tigers. Game time is set for 7 p.m.
By Don Brown, Local Sports
Reach Don at donbrown@k105.com