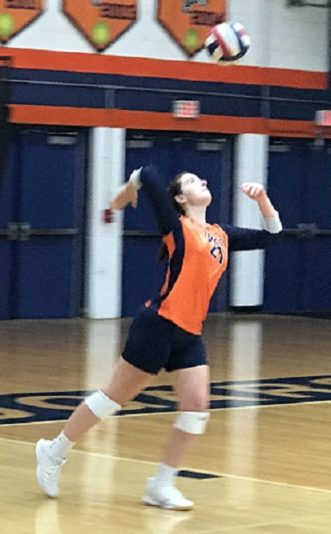 The Lady Cougar volleyball team suffered its first loss of the season on Saturday as the Breckinridge County Lady Tigers defeated them  3-2 (28-26, 17-25, 12-25, 25-21, 12-15).
The Lady Cougars led the entire first set, by as many as eight points, 21-13, at one point. But the Lady Tigers fought back and served a set-point at 24-25. Grayson County won a rally point to tie the score, but Breck won the next point to serve another set-point at 25-26.
Senior Ella Robinson recorded a kill to tie it at 26-26 before a Breck hitting error gave the Lady Cougars a set-point, 27-26, and Robinson put away a kill to give the Lady Cougars the first-set win.
Tied at 6-6 in the second set, Breck's Natalie Henning served six straight points and the Lady Tigers never trailed again. Robinson put a ball into the net at set point to give the Lady Tigers the win and even the match at a set apiece.
Breck raced out to an early 9-1 lead and were never in danger in the third set. Junior Audrey Whitworth recorded a kill on set point to give the Lady Tigers an easy 25-12 win in the third set.
Breck went out to an early 4-0 lead, but the Lady Cougars fought back to lead 8-6 following a Chloe Cox kill.
Tied at 11-11, Cox served four straight to put the Lady Cougars in front 15-11. Grayson County pushed the lead to six points, 19-13 following two points with Kenzie Skaggs serving.
With a set-point at 24-21, Skaggs had a kill off the block to even the match at two sets apiece.
Grayson County led in the early going of the 15-point fifth set. Whitworth had three kills late in the set to give the Lady Tigers match-point at 11-14, but the Lady Cougars staved off elimination.
With Cox serving, Whitworth had a block at the net to give her team the win.
The Lady Cougars got back in the winning track in the afternoon mas they defeated Allen County Scottsville 3-1 (30-28, 22-25, 25-21, 25-18).