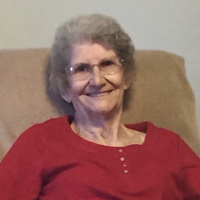 Ollie Delphine Jaggers, age 83, of Clarkson, KY, passed away Saturday, (September 12, 2020) at her residence.
She was born on January 14, 1937 in Grayson County, KY the daughter of the late Robert Samuel and Mamie Hack Lasley.
She was a former sewing machine operator for Phar Shar who enjoyed gardening, flowers, cooking, crocheting, and loved spending time with her family.
She is survived by her husband, Edward Laymon Jaggers of Clarkson, KY; three sons, Marchmond Jerry Cottrell and Billy Ray both of Big Clifty, KY and Gary Wayne of Clarkson, KY; two daughters, Sabra Gayleen Lone of Leitchfield, KY and Vickie Rose Pennington (Kevin) of Falls of Rough, KY; two brothers, Donald Clay Lasley and William Coy both of Leitchfield, KY; two sisters, Gracie Lee Newton of Leitchfield, KY and Francies Loraine Johnson of Shepherdsville, KY. Several grandchildren and great-grandchildren also survive.
Other than his/her parents, she was preceded in death by her son, Laymon Lavoid Jaggers; three brothers, Laymon Lasley, Ova Lasley, and Doris Lasley; and two sisters, Rosie May Gaither and Truly Eveline Canter.
Funeral services will be at 11:00 a.m. Thursday, (September 17, 2020) at the Dermitt Funeral Home. Bro. Jerry Poteet will be officiating. Burial will be in the Peonia Christian Cemetery.
Visitation will be at the Dermitt Funeral Home from 3:00 p.m. to 8:00 p.m. on Wednesday and from 9:00 a.m. Thursday until time of service.
Online condolences can be made in the guestbook on our website at www.dermittfuneralhome.com.