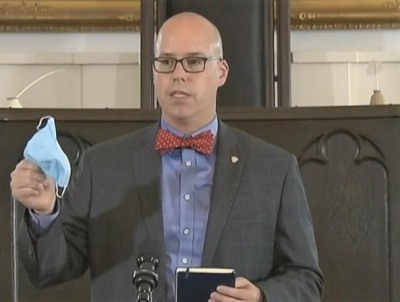 On the same day Grayson County Schools announced the district still plans to reopen schools to in-person learning on September 28, Kentucky education and health officials on Monday filed an emergency regulation addressing coronavirus (COVID-19) reporting requirements for schools and parents/guardians.
Dr. Steven Stack, Commissioner of the Kentucky Department for Public Health (KDPH), Lt. Gov. Jacqueline Coleman and several education officials said that under the new regulation, no later than Monday, September 28, all parents and guardians are required to report positive test results to their school districts within 24 hours of their child testing positive for the virus.
Additionally, all schools must report via a secure website, Monday through Friday (or, every day school is in session), data related to COVID-19, a step Grayson County Schools has already taken.
"Using this data, KDPH will publish an online dashboard," Dr. Stack said. "The dashboard link will be posted on or before Monday, September 28, on the kycovid19.ky.gov website. Publicly reporting this data is a necessary tool to enable students, parents and communities to make informed decisions COVID-19 risk in collaboration with the education and public health communities."
Dr. Stack said KDPH still continue to publish its K-12 public health reports, also available on the kycovid19.ky.gov website.
Officials said the guidance is in effect as long as the state's positivity rate is below than 6 percent (as of Monday, it was 4.17 percent), and the state's health care system has "sufficient resources." A color-coded map showing incidence rates will provide districts with corresponding guidance. The map will be updated on Thursday evenings.
"Let me be clear, … there is not going to be an overall recommendation coming from me or my office post September 28," Gov. Andy Beshear said about the new regulations. "What's going to be provided is the information to make a week-by-week decision in our various school districts and counties based on prevalence and what public health experts believe is the right course based on that prevalence."
(Photo of Dr. Steven Stack courtesy of WEVV.com)
By Ken Howlett, News Director
Contact Ken at ken@k105.com