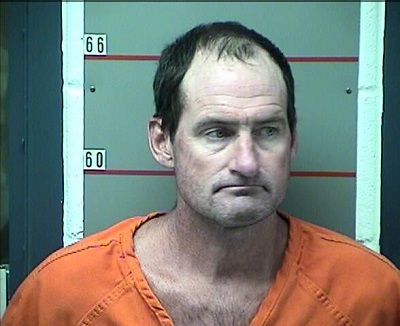 An intoxicated Leitchfield man has been arrested after fleeing police following a domestic dispute.
Monday night at approximately 9:30, Grayson County Sheriff's Office Sgt. Zane Greer, Kentucky State Police Trooper Casey Keown and Constable Mark Stanton were dispatched to a residence in the 6900 block of Anneta Road on the report of a physical domestic dispute.
Upon arriving at the home, police learned that 48-year-old James M. Stinson, who left the residence in a truck prior to law enforcement arriving, had been drinking heavily and behaving in a violent manner, according to the arrest citation, with officers finding evidence of that behavior in the home.
Police searched for Stinson for about an hour when Grayson County Central Dispatch advised officers that the suspect was back at the residence. He again left the home before police arrived, but while officers were still at the residence, Stinson drove by "at a high rate of speed," the citation says.
Stinson fled police "in a reckless manner," and turned onto Long Branch Road before exiting the truck and fleeing on foot into a field, according to the citation. He was quickly caught, though, by Greer and Keown.
The citation states that Stinson "was clearly manifestly under the influence of alcohol," and was "unsteady on his feet and his speech was slurred."
He was arrested and charged with fourth-degree assault (domestic violence), two counts of fleeing or evading police (motor vehicle, on foot), his second DUI (aggravating circumstances), and reckless driving along with multiple non-moving violations.
Stinson was lodged in the Grayson County Detention Center.
By Ken Howlett, News Director
Contact Ken at ken@k105.com