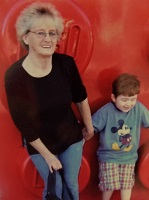 Gertrude "Gertie" Bratcher, 70, of Mammoth Cave passed away Saturday Sept. 19, 2020 at The Medical Center at Bowling Green.
The Edmonson County native was a youth counselor at Great Onyx Job Corps Center and a member of Pine Grove Baptist Church in Cub Run. She was a daughter of the late Dewey Childress and Ola Glass Childress and the wife of the late Wilford Bratcher.
Visitation will be 4-8 PM Monday and 10 AM-11:30 PM at Gravil Funeral Home. Funeral services will be private. Burial will take place in Pine Grove Cemetery.
Surviving are a son, Thomas Bratcher (Amanda) of Anaheim, CA; three brothers, Tony Childress, Merle Childress (Helen) and Joby Childress all of Louisville; two sisters, Pearl Haynes of Brownsville and Magaline Meredith (Junior) of Cave City; a grandson, Max Bratcher; and was a loving aunt to multiple nieces, nephews, great nieces and great nephews.