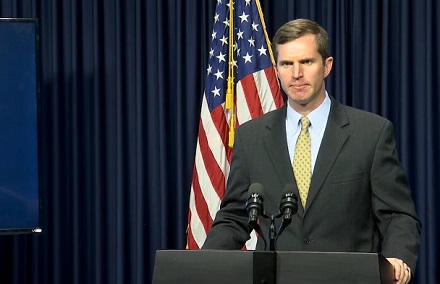 Gov. Andy Beshear on Friday said 930 new cases of coronavirus (COVID-19) were confirmed in Kentucky over the previous 24 hours.
The new cases increase the state's COVID-19 victim count to 65,066.
Officials said 131 of the new cases are children 18 and younger, with 23 of those five-years-old and younger. The youngest new case is a two-month-old baby.
"We cannot continue to have days where we have 900-plus cases," Beshear said. "Please put on your mask. Please engage in social distancing. The lives and the health of the Kentuckians around us depend on it … The virus has come for us. We have to fight back.
Officials reported 12 new deaths Friday, giving the state 25 virus-related deaths in two days, and raising the commonwealth's death toll to 1,149 (1.8 percent fatality rate).
The deaths reported Friday include an 86-year-old woman from Campbell County; an 85-year-old woman from Fayette County; an 86-year-old man from Fulton County; a 94-year-old woman and a 92-year-old man from Jefferson County; a 78-year-old man from Madison County; a 79-year-old man from Marshall County; a 74-year-old woman from McCracken County; and two women, ages 62 and 96, and a 73-year-old man from Warren County.
Additionally, a 68-year-old Grayson County woman was listed by state officials as dying from the virus.
The rolling seven-day positivity rate fell to 4.48 percent, the third consecutive day the rate has dropped after checking in at 4.57 percent on Thursday and 4.59 percent on Wednesday.
Since the beginning of the pandemic, 5,147 (7.9 percent) people have been hospitalized, with 553 patients undergoing treatment in a hospital. To date, 1,501 (2.3 percent) victims have been admitted to an ICU, with 130 people currently in intensive care.
At least 11,677 (17.9 percent) Kentuckians have recovered from the virus, and 1,321,987 coronavirus tests have been conducted in the state.
By Ken Howlett, News Director
Contact Ken at ken@k105.com