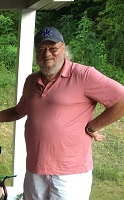 Jackson Ellis "Jack" Abrams, 69, of Bowling Green passed away at 7:02 PM Wednesday Sept. 23, 2020 at The Medical Center at Bowling Green.
The Huntington, WV native was a retired signalman for CSX Railroad, a Vietnam Era US Air Force veteran and a member of American Legion Post 200 in Louisville. He was a son of the late Lloyd Abrams and Polly Akers Abrams. He was preceded in death by a son, Jackson Ellis Abrams Jr.; two brothers, Lloyd Abrams Jr and James Abrams; and two sisters, Deborah Parsons and Patricia Abrams.
There will be a public walk-through visitation from 10 AM-2 PM Sunday at Gravil Funeral Home. Funeral services are private. Burial will take place in Slate Bank Cemetery.
Surviving are his wife, Peggy Sue Beasley Abrams; two brothers, Robert Abrams (Patty Jacque) of Paintsville and Sam Abrams of Flatwoods; two sisters, Donna Ferris of Coal Grove, OH and Melissa Shope (William) of Pedro, OH; a granddaughter, Gabrielle Abrams of Ironton, OH; mother-in-law, Linda Beasley of Sunfish; and two brothers-in-law, James Beasley and Joey Beasley (Doiss) both of Sunfish.