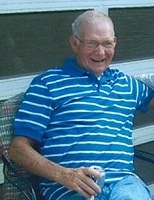 Jack Harold Pearl, age 81, of Clarkson, passed away, September 24, 2020, at Wesley Manor in Louisville.
He was born September 6, 1939, in Big Clifty. He was retired from Vermont American Corporation, an Army veteran and a member of Potter's Hope Ministries.
He was preceded in death by his wife, Mary Frances Pearl; his parents, Harley Paul and Georgia J. Calvert Pearl; four sisters, Gloria Meredith, Ruth Dooley, Mary Davis and Florence Clark and a brother, James Pearl.
Jack is survived by a brother, Thomas Pearl, a cousin, J.C. Morrison, a step-daughter, Janey (Shawn) Karnes, a step-grandson, Jacob Embry and a host of nieces and nephews.
Funeral services will be held at 2 PM (CST), Monday, September 28, 2020, at Rogers-Oller Funeral Home with Bro. Wayne Clemons officiating. Burial will follow in the Cedar Hill Cemetery in Big Clifty.
Visitation will be after 10 AM Monday at the funeral home.