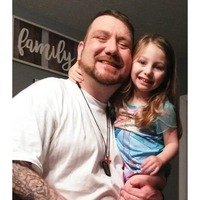 Brian Carter Turley-Carman, age 41, of Caneyville, KY, passed away Sunday, (September 27, 2020) at Kindred Hospital in Louisville.
He was born on August 8, 1979 in Owensboro, Kentucky the son of his late father, Stevenson Carter Turley and Sheila (Ashworth) Duff.
He was disabled and enjoyed working on cars and spending time with his granddaughter.
He is survived by his mother, Sheila Duff (Charlie) of Radcliff; daughter, Stephanie Woodcock of Leitchfield; sister, Amanda Carnes of Radcliff; brother, Jody Carman of Owensboro; grandchild, Kinlee Woodcock; and his step-father, Richard Carman of Madisonville. Several aunts, uncles and several nieces and nephews also survive.
He was preceded in death by his father, Stevenson Carter Turley, his uncle, Jerry Walmer and his aunt, Judy Walmer.
Funeral services will be at 1:00 p.m. CST Friday, (October 2, 2020) at Dermitt Funeral Home. Burial will be in the Brown Cemetery in Caneyville.
Visitation will be at the Dermitt Funeral Home from 10:00 a.m. to 8:00 p.m. CST on Thursday and from 9:00 a.m. Friday until time of service.
Expressions of sympathy may take the form of donations to assist with final expenses.
Online condolences can be made in the guestbook on our website at www.dermittfuneralhome.com.