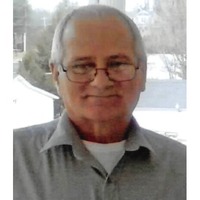 Russell Gene Wooden, age 61, of Leitchfield, KY, passed away Sunday, (October 11, 2020) at Owensboro Health.
He was born on June 9, 1959 in Grayson County, Kentucky the son of the late Kova A. Wooden and Beulah (Butler) Wooden Powell.
He was a worker for the City of Leitchfield who enjoyed spending time with his grandchildren. He was a member of the Broadway Missionary Baptist Church.
He is survived by his wife, Teresa Gail Snyder Wooden; three daughters, Brandy D. Blanton (husband, Jeff), Stacy A. Meredith (fiancé, Matt Alvey) and Wendy G. Grider (husband, Mike) all of Leitchfield; six grandchildren, Travis and Trenton Grider, Dakota and Shelby Meredith, Xavier Blanton and Brayleigh Alvey; two brothers, Phildon Wooden (wife, Donna) of Clarkson, Johnnie Miller (wife, Alicia) of Louisville; sisters, Betty Jean Jeffers (husband, Doug) of Upton, Alma Wilson of Indiana, Betty Priddy of Upton, Louise Westaby (husband, Eddie) of Shepherdsville and Martha Shell (husband, Lester) of Junction City.  Several nieces and nephews also survive.
Other than his parents, he was preceded in death by his brother, Stanley Miller and his sister, Frances Kinser.
Funeral services will be at 1:00 p.m. Friday, (October 16, 2020) at Dermitt Funeral Home. Bro. Ernie Priddy will be officiating. Burial will be in the Layman Memorial Cemetery.
Visitation will be at the Dermitt Funeral Home from 10:00 a.m. to 8:00 p.m. on Thursday and from 9:00 a.m. Friday until time of service.
Online condolences can be made in the guestbook on our website at www.dermittfuneralhome.com.