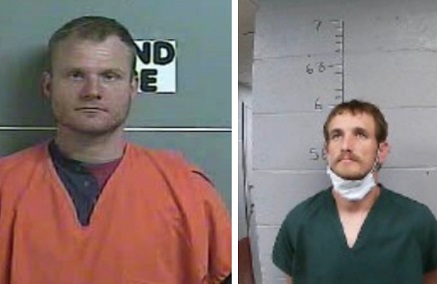 Two men, one wanted in Butler County and the other wanted in Ohio County, have been arrested in Grayson County after the Grayson County Sheriff's Office received information on the suspects' location.
Thursday afternoon at approximately 3:00, the sheriff's office received information that 32-year-old Brandon C. Coy, of Smiths Grove, and 33-year-old Jeremy M. Potts, of Fordsville, were in a vehicle in the parking lot of a business on Morgantown Road, just south of Caneyville.
According to court documents, Potts was wanted in Ohio County on charges including being a persistent felony offender, trafficking in a controlled substance (methamphetamine), possession of a controlled substance (methamphetamine), tampering with physical evidence, promoting contraband, possession of drug paraphernalia, and possession of marijuana. All of the accusations are additionally a violation of his parole.
Coy was wanted in Butler County for failure to appear on a theft by unlawful taking (over $500) charge.
Constable Mark Stanton arrived in the area and spotted the vehicle containing Coy and Potts, as he observed the two men while Sgt. Fred Norder was en route. Just as Norder arrived, the two men attempted to leave the business parking lot, with Norder executing a traffic stop.
Coy and Potts were identified and detained, with Butler and Ohio County law enforcement notified of the pair's capture.
Coy was later lodged in the Butler County Jail, while Potts was lodged in the Ohio County Detention Center.
Deputy Erik Franklin assisted at the scene.
(Photo l-r: Jeremy Potts, Brandon Coy)
By Ken Howlett, News Director
Contact Ken at ken@k105.com