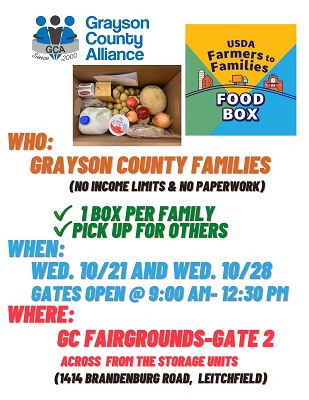 Grayson County Alliance will soon be offering 3,000 extra food boxes to Grayson County residents, regardless of income.
"One in seven Kentucky families prior to COVID19 were food insecure," Grayson County Alliance Executive Director Debbie Childress said. "Now in the midst of a lingering state of emergency, even more families are struggling to maintain a healthy food supply."
The 30-pound Farms to Families boxes will be available for pickup on Wednesday, October 21, and Wednesday, October 28 (rain or shine). Both distribution days will be held at the Grayson County Fairgrounds. Gate 2 of the fairgrounds will open at 9:00 a.m. on both distribution days.
One box per family will be distributed, and picking up a box for someone else will be allowed.
Volunteers will be on hand to direct traffic and load cars, and anyone picking up a box is asked to remain in their cars and please wear a mask.
"The Farmers to Families program will provide a 30-pound box containing dairy, produce, and protein that can support families during these difficult days," Childress said. "We are thankful to be able to offer these boxes. Grayson County Alliance is appreciative of the support of county and city officials to make this event happen."
Bread distributions will not be held on the Farms to Families distribution days.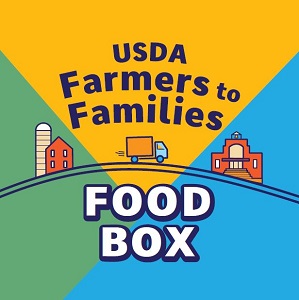 By Ken Howlett, News Director
Contact Ken at ken@k105.com