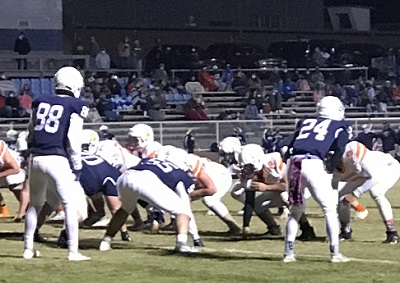 After the Grayson County Cougars gave up a 56-yard touchdown pass to Ohio County on the game's first play from scrimmage, the defense clamped down on the Eagles, holding them to just 139 total offense the rest of the way in their 26-7 victory last Friday in Hartford.
Senior running back Caden Woodcock ran for 145 yards on 42 carries and scored a pair of touchdowns to lead the Cougars.
Seniors Zach Bratcher and Joey Clemons led the defense in tackles with eight apiece.  Senior Hunter Harper had seven tackles, including four tackles for loss. Harper also had a blocked punt, which he returned 20 yards for the Cougars' first touchdown.
Following a short opening kickoff from the Cougars, the Eagles set up at their own 45-yard line. Quarterback Devin Gott dropped back and lofted a perfect pass which fell into the arms of receiver Kaleb Humphrey, who was behind the Cougar defense, and just 18 seconds into the game, the Eagles led 7-0.
The two teams traded possessions over the rest of the first period until Ohio County was faced with a fourth-and-19 at their own 38-yard line and lined up to punt the ball away with just seconds remaining.  Harper broke through the middle of the line and blocked the punt.
After wrestling with the ball for a couple of seconds, Harper picked it up around the 20 and returned it for a touchdown. A bad snap on the extra point try prevented the conversion, but the Cougars were on the board trailing 7-6.
The Eagles began their next possession on their own 42 and moved deep into Cougar territory. But on fourth-and-goal at the Cougar 20, Gott threw an interception in the end zone to Levi Martin and the Cougars took over at their own 20.
The Cougars then went on an 80-yard march that took 15 plays and 5:48 off the clock and was capped by a three-yard Woodcock run that made it 14-7 following a two-point conversion with 22 seconds left in the half.
The Cougars opened the second half with another long drive for a score, this time moving 77 yards in 16 plays, with Woodcock again carrying in from the three making it 20-7 after the extra-point try failed.
Grayson County's defense then stopped the Eagles on downs at the Ohio 36-yard line with 1:41 left in the third period. Eight plays later the Cougars were in the end zone one more time, this time with Mason Miller taking it in from the one. A run for two failed, making the final score 26-7.
This coming Friday, the Cougars will be on the road in Owensboro to take on the Owensboro Red Devils in an important district game. That game is scheduled to begin at 7 p.m.
By Don Brown, Local Sports
Reach Don at donbrown@k105.com