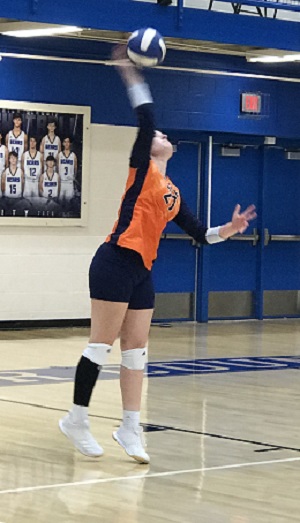 Despite dropping the first set to Edmonson County, the Lady Cougar volleyball team roared back to take a 3-1 (20-25, 26-24, 25-11, 25-12) win in the opening round of the 12th District Tournament, being held at Butler County High School.
Thye Lady Cougars were playing without seniors Ella Robinson and setter Brieanna Boll for disciplinary reasons in the first set, and their absence was a big factor in the opening-set loss.
In just three sets, Robinson led the Lady Cougars with 21 kills and she added five digs on the day. Senior Chloe Cox added 12 kills Boll led the team with 21 assists, while senior Kenzie Skaggs had 11, mostly in the first set when Boll was on the bench.
Senior libero Bailey Richardson had 36 digs to lead the team, while senior Autumn Riggs had a fine day with 14 digs.
Grayson County trailed for much of the first set. They closed to within two points of the lead at 10-12, but the LadyCats reeled off six unanswered points to lead 10-18.
The Lady Cougars again pulled to within two points at 18-20, but the LadyCats scored the next four points, giving them a set point at 18-24 before sophomore Allie Dotson's kill stopped the LadyCat run.
Grayson County won the next point. but when Cox put a kill attempt wide, the LadyCats had the first-set win.
Even when Boll and Robinson returned, it took a while to get the team back in rhythm. Though the Lady Cougars led for most of the second set, the LadyCats stayed within a point or two of the lead.
Grayson County had their first set point at 24-22, but the LadyCats managed to tie things at 24-24. A Boll kill gave the Lady Cougars another set point at 25-24, and this time a LadyCatr hitting error gave the set to the Lady Cougars.
The Lady Cougars reasserted their dominance in the third set, racing out to leads of 6-1, 12-3, and 18-5 before a Robinson kill at set point gave the set to Grayson County.
The Lady Cougars trailed twice in the early going of the fourth set, the last time coming at 1-2. A Robinson kill on the Edmonson serve started a 5-0 Lady Cougar run that ended with an ace by Kenzie Skaggs to give Grayson County a four-point, 6-2 lead, and Edmonson was never closer than three points the rest of the way
The LadyCats staved off elimination on the first Lady Cougar match point, but Robinson put away a kill on the second match point to put the Lady Cougars into Wednesday's 12th District final, which will be against the winner of tonight's semi-final match between the Butler County Lady Bears and the Whitesville Trinity Lady Raiders
By Don Brown, Local Sports
Reach Don at donbrown@k105.com.