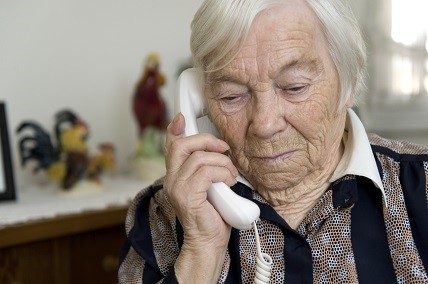 Grayson County Sheriff Norman Chaffins said a local bank sniffed out a con aimed at taking advantage of an elderly Grayson County couple.
Wilson and Muir Bank "had an elderly couple come into their bank wanting to send 'their daughter several thousand dollars to post her bond after she was involved in a DUI crash on her way to a friend's funeral,'" Chaffins said.
The sheriff said the caller, who posed as an attorney, had someone pretend to be the couple's daughter, telling the intended victims "she desperately needed their financial help."
"The loan officer at the bank saw something fishy about the transaction and began asking questions," Chaffins stated, resulting in the elderly couple contacting their daughter and finding she was safe and not in need of financial assistance.
"Had it not been for the keen eye of the Wilson and Muir employee, the couple would have sent the money to the scumbag and lost several thousand dollars," Chaffins said. "The Wilson and Muir employee called the Grayson County Sheriff's Office to report it and we followed up and quickly discovered that this was a very common scam to steal from our elderly citizens."
The sheriff encourages residents to speak to elderly parents, grandparents and neighbors and urge them not to offer money or banking information over the phone.
"If they have any doubt whatsoever about any transactions or requests from a third party asking them for money, or to go get money cards or gift cards, or someone threatening arrest if they did not pay their bond, to please call the sheriff's office at 270-259-3024 and ask to speak to a deputy," Chaffins said, before noting that law enforcement sees an increase in scam activity during tax collection season and the holidays.
By Ken Howlett, News Director
Contact Ken at ken@k105.com