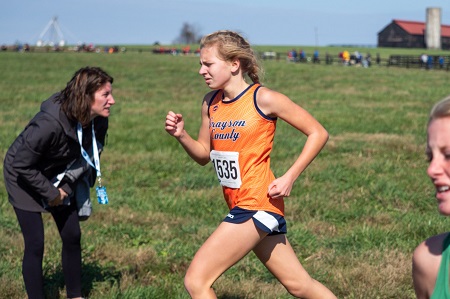 This past weekend, both the girls and boys Grayson County High School cross country teams qualified for the KHSAA state championship meet.
In the regions on Friday, 8th grader Gracie Portman led the way for the Lady Cougars with a 21st place finish. As a team, they finished 5th overall in the meet held at Phil Moore Park in Bowling Green. Other finishers included: Coray Milam (23rd), Chloee Darst (27th), Chloe Wilder (30th), Sydney Perkins (33rd), Molly Geary (40th), and Ellie Evans (46th).
Due to inclement weather on Friday, the boys' race was moved to Saturday morning. Sophomore Peyton Nash was the top Cougar with a 5th place finish. Nash's performance helped the team get 4th overall at the meet. Other finishers for the boys included: Tanner Hayes (19th), Joseph Beasley (20th), Lucas Gallagher (22nd), Houston Brooks (26th), Jackson Crume (29th), and Eli Helm (47th).
This season, the KHSAA state meet will be held at the Bourbon County Cross Country course in Paris. The boys' meet is scheduled to start at 3:30 pm on Saturday with the girls following at 4:30 pm.
By finishing in the top five of the region, both teams are allowed a full ten-person roster at the race. Representing the Grayson County boys will be Joseph Beasley, Houston Brooks, Luke Cann, Wyatt Clemons, Jackson Crume, Lucas Gallagher, Tanner Hayes, Eli Helm, Peyton Nash, and Jacob Smith.
The Lady Cougars will be represented by Chloee Darst, Rebecca DePoyster, Ellie Evans, Molly Geary, Kaylee Jessie, Sydney Lindsey, Coray Milam, Sydney Perkins, Gracie Portman, and Chloe Wilder.
By Sam Gormley, Play-By-Play Announcer/Local Sports
Reach Sam at sam@k105.com
(Photo from Grayson County HS Cross Country on Facebook)