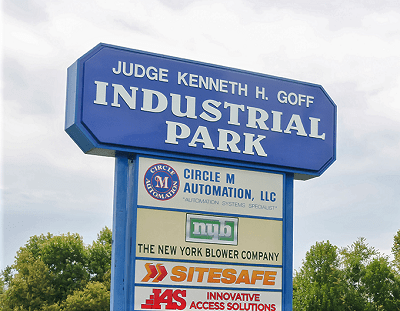 The city of Leitchfield recently received funding from the Regional Development Agency Assistance Program (RDAAP) for improvements at Judge Kenneth H. Goff Industrial Park.
The industrial park is located on 129 acres off Kenneth H. Goff Drive, in the 2700 block of Brandenburg Road. It is home to Site Safe, New York Blower, Innovative Access Solutions, and Circle M Automation.
The $44,994 granted will "provide erosion control, installation of a turning lane that will increase safety and mobility of the current infrastructure in place for large trucks coming through the area, and create an expansion of a water line," according to state Rep. Samara Heavrin, who helped procure the funding.
"RDAAP funds are used for but not limited to preparing or acquiring land for industrial sites, along with building and upgrading utility infrastructure," Heavrin stated. "This further prepares communities to be successful and can create a multitude of jobs. Because these funds can be used as a match, it makes grants more accessible for communities like Leitchfield. This provides additional opportunities to leverage funds available at the federal and state level for critical infrastructure projects; projects that create immediate jobs and opportunities for targeted business growth."
The framework for distribution and oversight of RDAAP funds was created by the Kentucky General Assembly in 2018, Heavrin said. The money is administered by the Department of Local Government and "secured by local legislators," according to Heavrin.
By Ken Howlett, News Director
Contact Ken at ken@k105.com