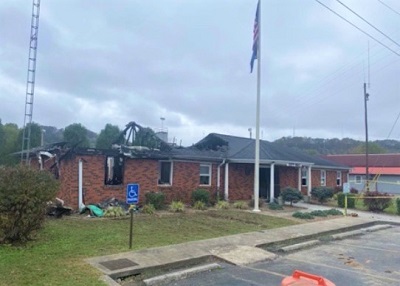 The Bureau of Alcohol, Tobacco, Firearms and Explosives (ATF) is offering a $5,000 reward for information leading to the arrest of the individual(s) responsible for an arson fire that destroyed Burkesville City Hall.
The fire occurred at approximately 5:45 Sunday morning. The Burkesville Police Department headquarters was located in the building, and officials believe the fire was intentionally set to destroy evidence in a criminal case.
Burkesville Mayor Billy Guffey told news outlets the fire was set near the police department's evidence storage locker.
"It burnt really hot right there," Guffey said.
The building also housed the mayor and city clerk's offices, as well as the city council meeting room.
The ATF said it is conducting the arson investigation with assistance from Kentucky State Police, Burkesville Police Department, Cumberland County Sheriff's Office, Kentucky State Fire Marshal's Office, Cumberland County Emergency Management, and the Burkesville Fire Department.
ATF is requesting anyone with information to contact ATF officials at 1-270-393-4755 or the ATF tip line 1-888-ATF-Fire.
Tips can also be sent anonymously via the reportit® app using ATF Louisville Field Division as the location. It is available through the Google Play Store, Apple App Store, and at www.reportit.com.
(Photo courtesy of WKRN.com)
By Ken Howlett, News Director
Contact Ken at ken@k105.com