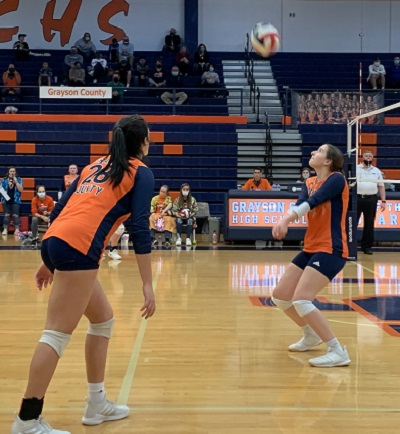 Grayson County's dream volleyball season came to an end on Thursday as the Daviess County Lady Panthers defeated the Lady Cougars 3-0 (25-19, 25-20, 25-13) in the Cougar Den to win the  championship of the 3rd Region Volleyball Tournament.
The Lady Cougars finished their season with a region-best 21-4 record which included a 15-game winning streak.
The first set was closely contested until Daviess took the serve tied at 10-10. Sophomore Josie Newcom took the serve and promptly served an ace to give the Lady Panthers a lead they would not give back. Four Grayson hitting errors and another ace by Newcom were included in a 6-0 run that pushed the Daviess lead to six points, 16-10.
The Lady Cougars were able to pull to within three points of the lead at 19-22, but Newcom had two straight kills to take it to set point, when senior Jasmine Beasley had a kill to give the first set to the Lady Panthers.
Newcom served six straight points near the start of the second set that gave the Lady Panthers a seven point advantage, 8-1.
Grayson County fought back to tie the score at 9-9, but Daviess answered with three straight to take the lead for good. The Lady Cougars staved off one set point when senior Ella Robinson had a kill at 19-24, but freshman Emma Embry put the next serve in the net to give the Lady Panthers a two-set lead.
That loss seemed to take all the starch out of the Lady Cougars as Daviess County opened the third set by scoring the first five points and were never threatened afterward. At match point, senior Ryann Keller dinked a ball into an open space and the Lady Panthers took the championship.
Following the game, Robinson, and seniors Kenzie Skaggs and Bailey Richardson were named to the All Tournament Team.
By Don Brown, Local Sports
Reach Don at donbrown@k105.com