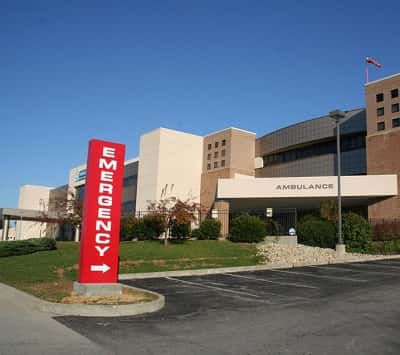 As the number of COVID-19 cases has increased in the community, Twin Lakes Regional Medical Center (TLRMC) has also seen an increase in the number of hospitalizations of positive COVID-19 patients. TLRMC saw its highest daily volume of COVID-19 patients on October 29, when 11 inpatients were being treated for the virus.
TLRMC has a total of 75 beds, 12 of which are currently reserved for COVID-19 positive patients. The hospital can expand the COVID unit to 22 beds, including the beds located in the CCU.
After the first wave of COVID-19 cases, TLRMC went a couple of months without any positive inpatients. After July 4, TLRMC was seeing one to two COVID-19 positive patients in the facility each day.
"The number of COVID positive cases remained steady until after fall break and that's when we saw COVID hospitalizations start to steadily rise to the current level of 9 to 11 patients per day," said Wayne Meriwether, CEO of Twin Lakes Regional Medical Center.
If cases continue to escalate and hospitalizations climb, it could reach a point where TLRMC is at capacity. Many other hospitals in the region are experiencing the same situation as TLRMC. Now more than ever is the time to be vigilant about practicing the three W's: wear a mask, wash your hands, and watch your distance.
Early in the pandemic, TLRMC was not using rapid tests for COVID-19, so patients suspected to be infected were listed as under investigation until their test results proved they were positive. Once rapid testing was available, TLRMC started using this method to determine if patients were positive. As a result, the hospital rarely has patients under investigation pending test results.
"After fall break, COVID cases have increased dramatically. The real risk we face is running out of healthcare resources as facilities reach capacity while trying to care for patients with routine illnesses like diabetes, heart and kidney disease," said Dr. Anthony Smith, Pediatrician at Leitchfield Pediatrics and Chief of Staff at Twin Lakes Regional Medical Center. "Therefore it is imperative that we follow state and federal guidelines to wear a mask, social distance and wash hands frequently. For this to be effective, we must all participate in taking precautions."
According to the Grayson County Health Department, as of October 29, 2020, there have been 565 confirmed COVID-19 cases and 18 deaths (two remaining in review). There are 49 current active cases in isolation, of which 12 are hospitalized. For the week of October 25, there were 50 new reported COVID-19 cases.
If you are sick, experiencing symptoms of COVID-19, including but not limited to a fever, cough, and shortness of breath or difficulty breathing, call your healthcare provider. Adults over 60 and people who have severe chronic medical conditions like seem to be at higher risk for more serious COVID-19 illness. Those individuals should be extra vigilant and stay home.
To schedule an appointment for a COVID-19 test, please contact the TLRMC drive through testing center at 270-200-4525.
Twin Lakes Regional Medical Center