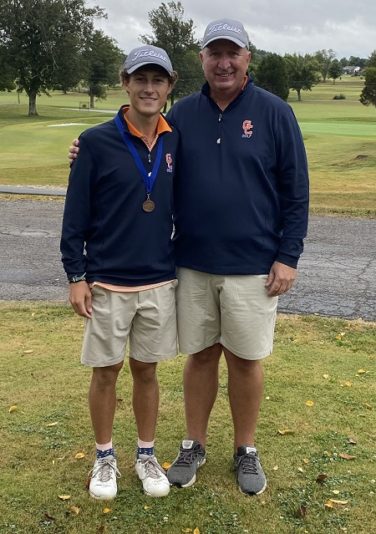 Grayson County senior golfer Grant Manion has been named to the Kentucky Golf Coach Association's all-region team.
Last month, Manion helped lead the Cougar golf team to a 4th place finish in the regional tournament held at Elizabethtown Country Club. The senior fired a 78 that day to qualify for the state tournament for the second straight season.
At the state championship, Manion shot an +11 at the challenging Bowling Green Country Club.
Central Hardin's Allan Lockwood was named the region's player of the year. Other all-region selections were Andrew Bennett (DeSales), Carson Childress (LaRue County), Gabe Shelley (Spencer County), Tyler Todd (Elizabethtown), Owen Honaker (Meade County), and Charlie Vowels (North Hardin).
Next season, the Cougar boys and girls' golf team will both return multiple players who competed in the regional competition.
By Sam Gormley, Play-By-Play Announcer/Local Sports
Reach Sam at sam@k105.com
(Headline Photo: Grant Manion and Grayson County golf head coach Tony Embry)