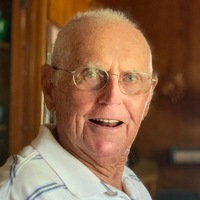 Robert "Bob" Glenn, age 84, of Leitchfield, passed away Wednesday, (October 28, 2020) at Twin Lakes Regional Medical Center in Leitchfield.
He was born on June 9, 1936 in Leitchfield, KY, the son of the late Emmett and Lydia Mae Moon Glenn.
An alumnus of Leitchfield High School Class of 1954, Bob worked as a farmer and retired from Gates Rubber in Elizabethtown where he was a production worker. He enjoyed quail hunting, fishing, bird watching, and working jigsaw puzzles. He was an avid fan of the Dodgers and UK basketball and loved his cats. He was a member of the Liberty Baptist Church.
He is survived by his daughter, Debbie Saltsman (Neal) of Leitchfield; three sons, Stephen Glenn (Sandy), Bart Glenn (Lee Ann), and John Glenn (Mary) all of Leitchfield; 11 grandchildren and 16 great-grandchildren. Several nieces and nephews also survive.
Other than his parents, he was preceded in death by his wife, Celia Ann Harris Glenn and a brother, William "Bill" Glenn.
Funeral services will be at 3:00 p.m. Saturday, (October 31, 2020) at the Dermitt Funeral Home in Leitchfield. Cremation will follow.
Visitation will be at the Dermitt Funeral Home from 10:00 a.m. Saturday until time of services.
Expressions of sympathy may take the form of donations to the Williams Cemetery.