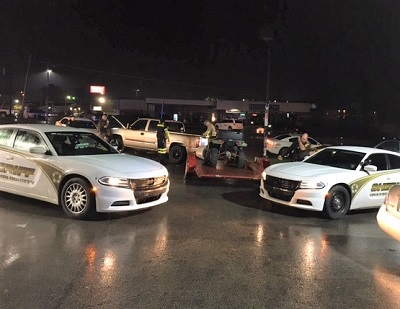 Grayson County Sheriff Norman Chaffins collared a felon wanted out of Edmonson County for trying to sell a stolen vehicle, with the arrest resulting in multiple felony drug and gun charges.
Wednesday night at approximately 6:15, Chaffins contacted the man, 26-year-old Keith Allen Lockard, of Mammoth Cave, in the Taco Bell/Marathon gas station parking lot at 802 South Main Street in Leitchfield. The suspect, police said, was slated to meet someone to arrange for Lockard to sell the person a GMC Sierra truck stolen out of Bowling Green a few weeks ago (the stolen truck was located at Lockard's residence).
Chaffins detained the man as GCSO Sgt. Fred Norder, Deputies Andy Vincent and Jason Luedke and Constable Mark Stanton made their way to the scene. Edmonson County Sheriff Shane Doyle soon arrived, as well.
Originally, Lockard was to be turned over to Doyle for detention in the Hart County Jail, but a search of the truck Lockard was driving, as well as the suspect, showed the felon was in possession of a firearm, methamphetamine, an undisclosed drug and marijuana.
Lockard was arrested and charged with possession of a handgun by a convicted felon, possession of a controlled substance (drug unspecified), possession of a controlled substance (methamphetamine, his second such offense), trafficking in marijuana, and possession of drug paraphernalia. The drug charges are enhanced due to Lockard possessing a firearm.
He was additionally charged with giving an officer a false name and driving on a DUI suspended license, as well as non-moving violations. Furthermore, the suspect faces a receiving stolen property charge in Edmonson County.
Lockard, now facing multiple felony charges in Grayson County, was lodged in the Grayson County Detention Center instead of being transported to the Hart County Jail.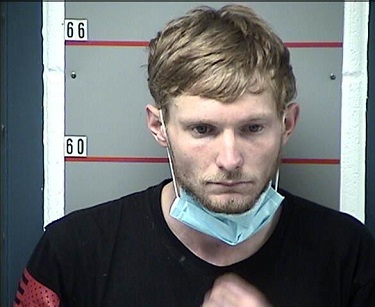 By Ken Howlett, News Director
Contact Ken at ken@k105.com