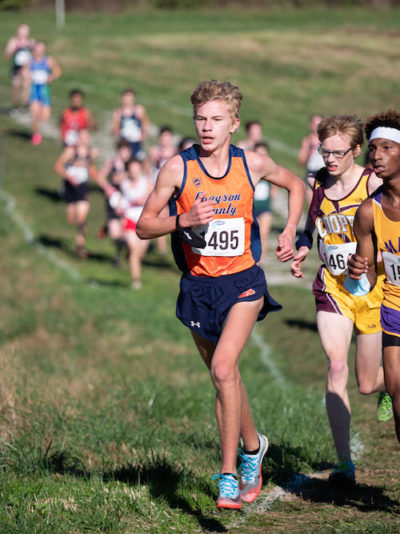 The Grayson County High School cross country teams wrapped up their regular season on Saturday at the KHSAA state championship in Paris.
Due to COVID-19 protocols, the race was held in waves with teams starting at staggered times to limit packs of runners running together.
In the boys' race, the Cougars finished in 17th overall place. The team was led by sophomore Peyton Nash who ran the 5K in 17:29 for 38th place.
Other finishers for Grayson County included Jackson Crume (109th), Tanner Hayes (127th), Joseph Beasley (129th), Lucas Gallagher (139th), Houston Brooks (185th), and Eli Helm (261st).
In the final race of the day, the young Lady Cougar team brought home a 24th place overall finish. 8th grader Gracie Portman was the top finisher with a 116th place finish. Freshmen Sydney Perkins, Chloee Darst, and Coray Milam brought home 148th, 150th, and 151st respectively. Ellie Evans, Chloe Wilder, and Molly Geary rounded out the race for GCHS.
The middle school cross country teams will be the next to compete in a state meet with the Hardin County Fairgrounds playing as the host on November 14th.
By Sam Gormley, Play-By-Play Announcer/Local Sports
Reach Sam at sam@k105.com
(Photo from Grayson County HS Cross Country on Facebook)