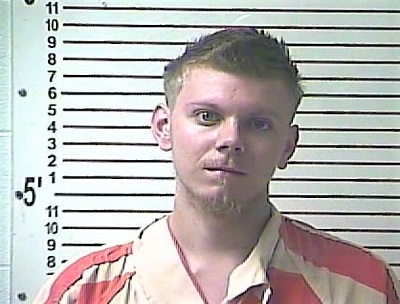 A firearm theft investigation has led to the arrest of an Elizabethtown man for strangling his girlfriend.
On Monday morning, Elizabethtown police arrived at a Hawkins Drive residence whose occupants reported that firearms had been stolen from the home. While police were in the area, officers heard screams coming from a nearby mobile home park, according to The News-Enterprise.
Upon arriving at the mobile home, they found a woman with red marks on her neck "curled up on her back crying," the newspaper reports. The victim's voice was hoarse and she had trouble speaking, as well.
When questioned by police, the suspect, 21-year-old Kelly Davison, said, "I just choked her," after becoming mad at the victim for something she said.
Police also found one of the firearms reported stolen from a nearby residence. Davison told officer someone gave him the gun earlier in the day.
Davison was arrested and charged with first-degree strangulation, receiving stolen property, resisting arrest, and fourth-degree assault (domestic violence).
He was lodged in the Hardin County Detention Center.
By Ken Howlett, News Director
Contact Ken at ken@105.com