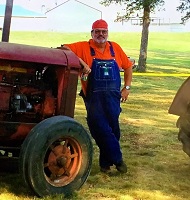 Bruce D. White, age 62, of Falls of Rough, KY, passed away Saturday, (November 21, 2020) at the Twin Lakes Regional Medical Center in Leitchfield, KY.
He was born on November 9, 1958 in Grayson Co., KY, the son of the late Harry and Muriel Decker White.
He was a foreman and welder for the Boilermakers, who enjoyed International antique tractors and putting on antique tractors shows; Bruce loved his farm and loved to cook. He was a member of the Grayson County Fair Board, Local #40 of the Boilermakers Union and the Short Creek Masonic Lodge.
He is survived by his wife, Rhonda Rigdon White and a host of friends.
Private funeral services will be at the Oak Grove Missionary Baptist Church in Clarkson. Bro. Jerry Weedman will be officiating. Burial will be in the Mahurin Cemetery.
In keeping with the Governors regulations, because of the COVID virus, only 25 people total will be allowed in the church at the service and at the graveside.
Online condolences can be made in the guestbook on our website at www.dermittfuneralhome.com.