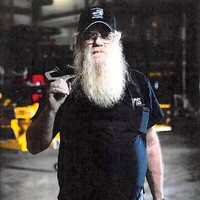 Clyde Thomas Childress, age 68, of Leitchfield, KY, passed away Tuesday, (11/17/2020) at Logan Memorial Hospital in Russellville, KY.
He was born on September 14, 1952 in Springfield, IL, the son of the late Pat and Nellie Mae Davis Childress.
He was a maintenance worker who enjoyed collecting guns and hunting and was a member of the Claggett United Baptist Church.
He is survived by his brother, Warren Childress (Kathy) of Leitchfield; a brother-in-law, Stanley Decker, of Leitchfield; a sister-in-law, Teresa Childress of Leitchfield; two nieces, Molly Fisher (Michael) & Jessica Holl (Kurt); and three nephews, Joey, Jamie and Jason (Gennie) Childress. Several great and great-great nieces and nephews also survive.
Other than his parents, he was preceded in death by his sister, Julie Decker, and his brother, Marty Childress.
A Graveside Service will be held at 2:00 p.m. on Friday (November 20, 2020) at Claggett United Baptist Church Cemetery. Bro. Mike Cannon will be officiating.