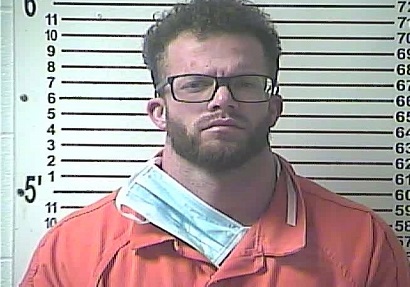 An Elizabethtown man has been arrested after pointing a gun at a woman during an argument over car keys.
Travis England, 31, has been charged with second-degree assault and first-degree wanton endangerment after tossing a woman against a wall and pointing a loaded gun at her while threatening to kill her, according to The News-Enterprise. England is also accused of chambering a bullet and pointing the gun at her again "to show her he was serious."
The suspect additionally hit the woman in the back of her head with the gun, knocking her down and cutting her head. Besides the cut, the victim displayed bruising and swelling on her face.
The newspaper reports the arrest citation says the assault occurred when England tried to take the woman's car keys but she refused.
England was lodged in the Hardin County De­ten­tion Center where he was also charged with possession of a controlled substance (methamphetamine), fourth-degree assault (domestic violence), possession of drug paraphernalia, and possession of marijuana. Some of the charges are enhanced by the presence of a firearm.
By Ken Howlett, News Director
Contact Ken at ken@k105.com