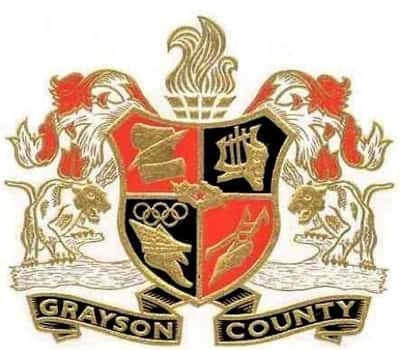 Following the recommendation of the Kentucky Department for Public Health, Superintendent Doug Robinson announced that Grayson County Schools (GCS) will begin in-person instruction on the A/B schedule beginning January 11.
Originally, GCS planned to begin in-person instruction upon returning from Christmas Break on January 4, but with Grayson County deemed a "red zone" due to a critical spread of COVID-19 within the community, the return to school was pushed back one week.
For the week of January 4-8, Non-traditional Instruction (NTI) will be utilized by the district.
As of Friday, Grayson County's rate of occurrence had dropped considerably from November and early December when the rate of spread in the county hovered between 50 and 60 cases confirmed per day per 100,000 residents. Although 73 cases of the virus have been confirmed in the county since December 11, the rate of transmission has dropped to 33.5 cases per day per 100,000 residents. The threshold to be considered a "red" county is 25 cases per day per 100,000 residents, according to the Kentucky Department for Public Health.
Robinson notes in the letter below, distributed to parents and guardians on Friday, that an evaluation of the status of the spread of the virus will take place each Thursday. At that time, a determination will be made by school officials on the next week's school schedule, with the possibility of a return to virtual instruction based on the rate of occurrence in the community.
Robinson's letter to parents/guardians: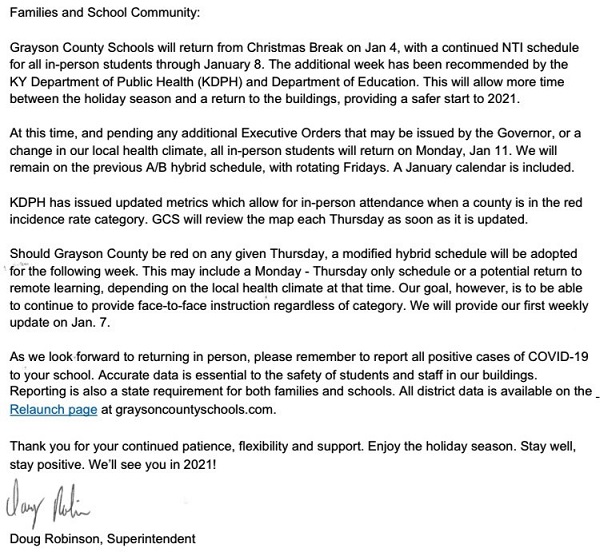 By Ken Howlett, News Director
Contact Ken at ken@k105.com