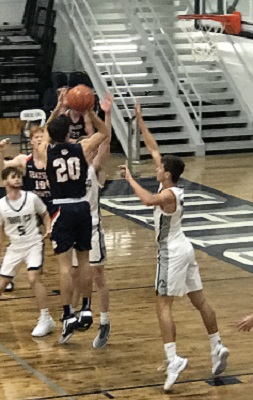 An 11-0 run at the end of the first period and the beginning of the second led the Ohio County Eagles to a 63-40 victory over the Grayson County Cougars in the opening game of the season on Tuesday in Hartford.
A rebound basket by Owen Bratcher with 1:13 left in the first period gave the Cougars a 7-5 lead, which turned out to be their final lead of the game. The Eagles then closed out the period by scoring the last seven points to lead 12-7 heading into the second period.
Elijah Decker hit a three-pointer at the 5:42 mark, before Grant Tichenor hit one-of-two at the line with 4:25 left to complete the 11-0 Eagle run which gave them a 16-7 lead.
A three-pointer by Grayson's Chandler McCrady with 1:02 left in the first half completed an 8-3 Cougar run that drew them to within four points of the lead, 21-17, but the Eagles scored the final four points of the period and took an eight-point, 25-17 lead into the half.
When the Eagles opened the third period on a 10-2 run, they increased their lead to 16 points, 35-19. A rebound basket by newcomer Keagan Garrison with 2:02 remaining cut the lead to 14 points, 37-23. The Eagles responded with 11 straight points, including three straight three-pointers and led by 23 points, 48-25 as the fourth quarter began.
Grayson County opened the fourth quarter with six straight points to pull to within 17 points, 48-31, but they would never be closer.
The Eagles hit nine threes on the night, including two from former Cougar Q'Daryius Jennings, who led the Eagles on the night with 16 points. Decker finished with 11 points, while Josh Manning added 10.
McCrady led the Cougars on the night with 16 points, and he also led the team on the glass with seven rebounds. Keegan Sharp scored seven points, while Bratcher and River Blanton scored four apiece.
Hunter Tomes finished with three points, while three players, Garrison, Dillon Horn and Brayden Childress closed out the scoring with two each.
By Don Brown, Local Sports
Reach Don at donbrown@k105.com