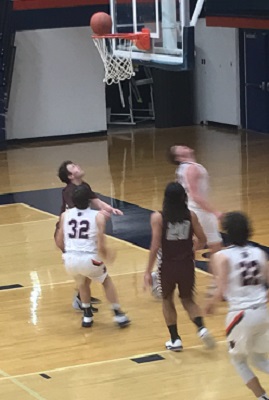 The Cougars boys basketball team put three players into double figures Thursday evening in the Cougar Den to down the Breckinridge County Tigers 63-51 and move to 1-1 on the season.
After five lead changes Grayson County used an 11-0, second-quarter run to grab a lead they would not give back.
Grayson County led by three, 12-9, at the end of the first period. Mercer Rogers tied the game 12-12 with a three-pointer at the start of the second period, then Kason Morris put the Tigers into the lead with a 15-footer.
Nolan Hornbeck put the Cougars back up by one with a three-pointer at the 6:57 mark before Cole Critchelow tied it 15-15 with one-of-two free throws at 6:40.
River Blanton then hit a three at 6:22 to ignite the 11-0 run that put the Cougars in charge 26-15. Breck then scored the last five points of the half to make the halftime score 26-20.
An old-fashioned three-point play from Xavier Perks with 53.7 seconds left in the third period cut the Cougar lead to just four points, 39-35, but the Cougars scored the final four points of the period to lead by eight, 43-35 heading into the final period of play.
Morris hit one-of-two at the line with 6:12 remaining to pull the Tigers to within six points of the lead, 49-43,  but they would get no closer as Grayson County outscored them 14-8 down the stretch.
Morris led all scorers in the game with 20 points.
Blanton and Chandler McCrady led the Cougars with 12 points each, and Blanton made it a double-double effort by pulling down 12 rebounds. McCrady just missed a double-double night with eight boards. Keegan Sharp was the third Cougar in double figures, finishing with 11 points.
Hunter Tomes just missed becoming the fourth Cougar in double figures, finishing with nine points. Senior Bret Payton had five points, while Brayden Childress and Dillon Horn had four apiece. Horn also added six rebounds.
Hornbeck finished with three points, Owen Bratcher had two, and Jaxon Higdon had one to complete the Cougar scoring.
By Don Brown, Local Sports
Reach Don at donbrown@k105.com