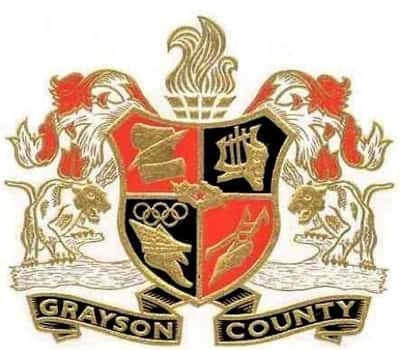 Grayson County Schools has slightly altered students' scheduled in-person learning days due to the county being firmly in the "red zone," indicating a critical spread of coronavirus within the community.
Superintendent Doug Robinson said the Kentucky Department for Public Health (KDPH) "has issued updated guidance which allows for in-person attendance even when a county is in the red incidence rate category. KDPH recommended that the current rate (49.7 daily infections per 100,000 population) be reviewed every Thursday to determine the plan for the following week. If a district is red, an adjusted schedule is required for that week."
Robinson noted that based on the "community's current and projected health climate for the next several weeks and to simplify planning for families, Grayson County Schools will operate on a Monday – Thursday only A/B schedule for the month of January."
The superintendent notes in the letter found below that students on the "A" schedule will attend in-person Monday and Wednesday, while "B" schedule students will attend in-person on Tuesday and Thursday.
The adjustment eliminates students alternating attending in-person every other Friday.
Non-traditional Instruction will continue for each student when not attending in-person classes, Robinson said.
Grayson County, along with 115 other Kentucky counties, is in the "red," according to the KDPH, as the county has had 322 COVID-19 cases diagnosed over the last 26 days, 12.4 per day. In total, Grayson County has had 1,418 cases of the virus confirmed since March 2020.
Forty deaths have been blamed on the virus.
The health department said on Thursday that there are 151 active coronavirus cases in the county, an increase of 39 cases since Monday, and the highest number of active cases in Grayson County since the onset of the pandemic.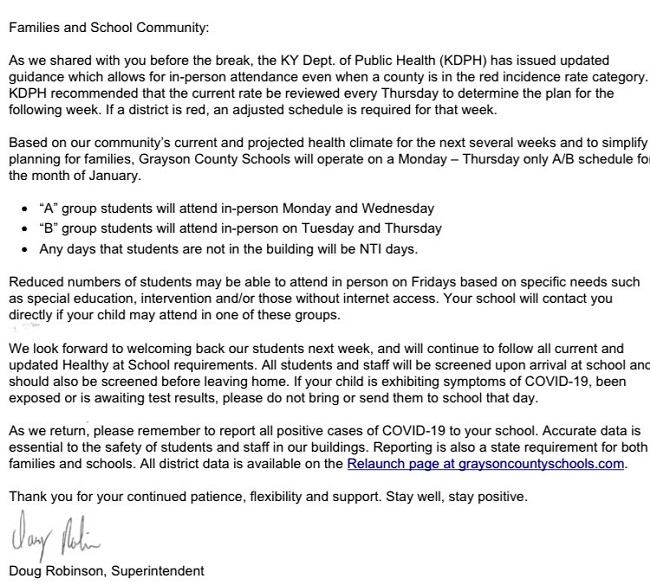 By Ken Howlett, News Director
Contact Ken at ken@k105.com