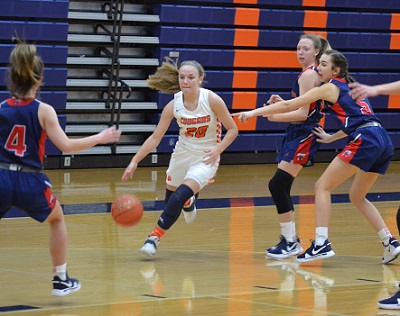 On Friday in the Cougar Den, the visiting LadyCats of Edmonson County put a 62-38 pasting on the Lady Cougars, who dropped to 0-2 on the season.
Seniors Ella Robinson and Rachael Snyder both played little in a first half in which the officials called a total of 26 fouls. Still, Grayson County trailed by only six points at the half, 29-23.
The Lady Cougars took an early four-point lead with 6:35 left in the first period, but the LadyCats responded with 10 straight points to take a lead they would not give back.
Edmonson opened the third period with eight unanswered points to go up by 14 points, 37-23 with 4:26 remaining in the period. Grayson County still trailed by 14, 44-30 at the start of the fourth quarter.
Edmonson County then blitzed the Lady Cougars 18-8 in the fourth period to win going away.
Adding to the Lady Cougars' woes is that sophomore point guard Annie Kiper will be lost indefinitely after she was injured while scoring a basket at the 3:01 mark of the second period.
The LadyCats put three players into double figures on the night, led by senior Katie Lindsey's 17 points. Senior Shea VanMeter had 16 points, and senior Macie McCombs added 10.
Snyder led the Lady Cougars with nine points and added nine rebounds to lead the team. Sophomore Aryssa Riggs scored seven points and added five rebounds. Eighth-grader Isabel Blanton came off the bench in the fourth quarter to score six points.
Three players, Kiper, Brianna Dennis, and Sidney Perkins all scored four points, while Robinson and Briley Renfrow had two apiece to complete the Lady Cougar scoring.
By Don Brown, Local Sports
Reach Don at donbrown@k105.com