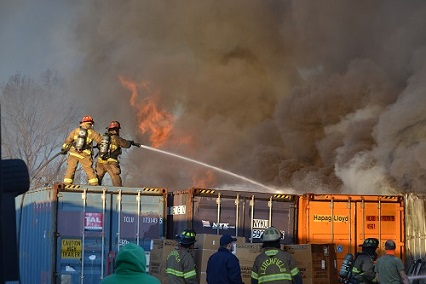 Three fire departments battled a massive blaze at McCubbin's Furniture and Appliance Tuesday afternoon and into Tuesday night.
At approximately 3:00, the Leitchfield, Clarkson and East Grayson Fire Departments responded to McCubbin's in the 2400 block of William Thomason Byway after, according to Leitchfield Fire Chief Tim Duvall, a pile of cardboard being burned between a storage building and storage pod got out of control, spreading to the building and pod.
Upon Duvall arriving on the scene within minutes, flames had engulfed the storage building and pod. The building and pod contained a combination of mattresses, refrigerators (as well as refrigerators used to store wine) and furniture, with what Duvall described as "a new type of freon" in the refrigerators causing an explosion.
Dozens of firefighters simultaneously battled the fires, with some firefighters fighting the fire while perched on top of pods, while other firefighters entered the burning storage building in an effort to slow the blaze.
At one point, Leitchfield Public Works Director Wesley Shull used a backhoe to move a pod that was in danger of catching fire.
The storage building was severely damaged, with one pod also suffering major damage. Some of the inventory was saved by firefighters, as they were able to keep the flames away and the inventory cool enough (with constant water flow) to prevent damage.
After working for over four hours to extinguish the blaze and conduct and "overhaul," consisting of inspecting the area for signs of hot spots, firefighters cleared the scene at 7:11 Tuesday night.
There were no injuries reported, and McCubbins' retail space was not damaged.
The Leitchfield Police Department provided traffic control and EMS stood by at the scene.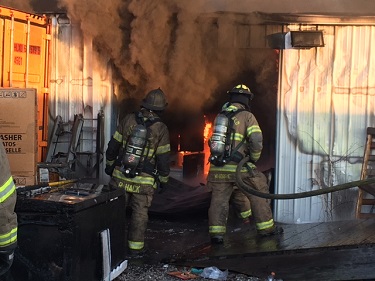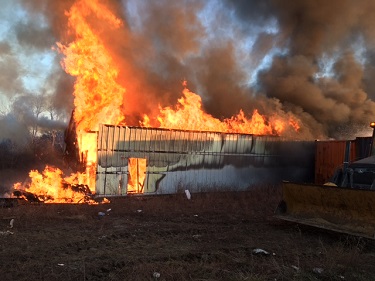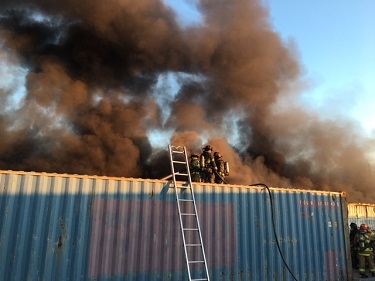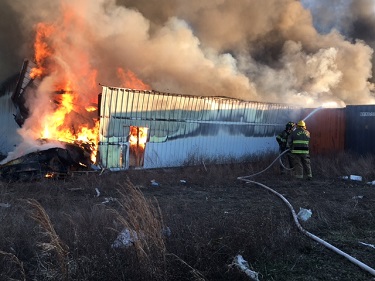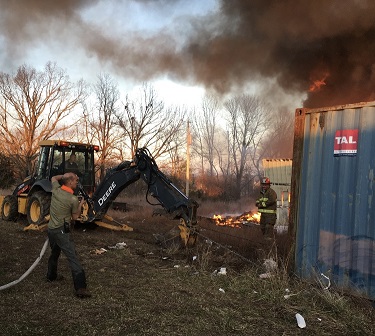 By Ken Howlett, News Director
Contact Ken at ken@k105.com