A Grayson County High School senior was recently selected to participate in the 2021 American Quarter Horse Association Ranching Heritage Young Horse Development Program.
Madison Edwards, 17, of Leitchfield, was one of only 20 young people 12-years-old and older selected for the program.
"The program showcases the horses bred and raised by AQHA Ranching Heritage members by matching weanlings with AQHYA members," said AQHA Director of Communications Sarah Davisson. The youth participating in the program are engaged in the horse industry at a fundamental level that is both fun and educational."
As part of the application process, Edwards noted her previous experience with FFA, 4-H and showing horses, according to her mother, Gail Edwards, while also submitting an essay.
After being notified that she had been selected for the prestigious program, Madison traveled to Kahoka, Missouri, and collected a gray filly, Clair, from AQHA Ranching Heritage breeder Michael St. Clair, operator of St. Clair Performance Horses.
As part of the programs, Madison will now evaluate, raise and train the horse.
"Through the Young Horse Development program, AQHYA members have a hands-on horse training opportunity focusing on the fundamentals of horsemanship, in addition to a unique opportunity to work with Ranching Heritage Breeders and AQHA Professional Horsemen," Davisson said. "The program is an excellent educational experience, in addition to serving as a scholarship opportunity."
The program was created in 2011 to give AQHYA members an opportunity to learn the fundamentals of horsemanship. The horses used in the program were bred by AQHA Ranching Heritage Breeders, which are working cattle ranches with a herd of at least five AQHA-registered mares that produce ranch horses.
Founded in 1940, the AQHA is the largest equine breed organization in the world. With headquarters in Amarillo, Texas, AQHA has a membership of more than 230,000 people in 86 countries and has registered more than five million horses in 95 countries.
(Headline photo: Madison Edwards and her filly, Clair)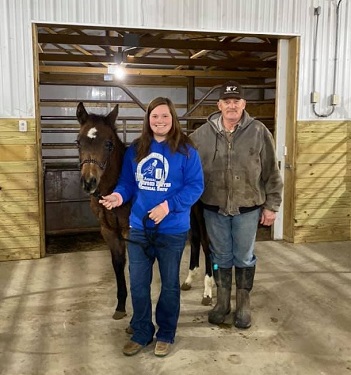 By Ken Howlett, News Director
Contact Ken at ken@k105.com