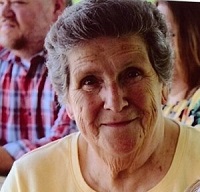 Helen Marie Stevenson Smith, age 73, of Leitchfield, passed away, Saturday, January 9, 2021, at Baptist Health Hardin in Elizabethtown.
She was a retired seamstress from Phar Shar Manufacturing and Kelley Beekeeping Company; a homemaker and a member of St. Joseph Catholic Church.
She was preceded in death by her husband, Bruce Smith; her parents, Floyd and Mary Clark Stevenson; a grandson, David Smith and a sister, Joann Pawley.
She is survived by two daughters, Angela (Mark) Lyons of Clarkson, Stephanie (Jamie) Slayton of Leitchfield; a son, Chip (Kim) Smith of Leitchfield; nine grandchildren, Stephen and Alex Brooks, Tucker and Spencer Lyons, Josh Slayton, Jessica (Sean) Fentress, Jacob, John and James Smith; a great-granddaughter, Lexi Fentress; a sister, Martha (David) Logsdon; five brothers, Father Tony Stevenson, Edward (Nellie) Stevenson, Pete (Lisa) Stevenson, Bobby Stevenson and Jimmy (Alexis) Stevenson and a sister-in-law, Sue (Jimmy) Kipper.
Visitation will be held from 1 to 7 PM, Wednesday, January 13, 2021, at Watkins-Oller Funeral Home with cremation to follow.