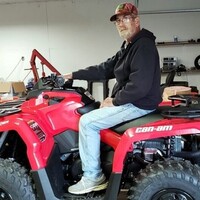 Larry Probus, age 71, of Leitchfield, KY, passed away Tuesday, (January 12, 2021) at the Hardin Memorial Hospital in Elizabethtown, KY.
He was born on April 19, 1949, in Grayson, Co. KY, the son of the late Cordis and Margaret Rhea Simon Probus.
He was a retired line worker for Leggett and Platt, an Air Force Vietnam Veteran, who enjoyed CB Radios, Metal Detecting and fishing and was a member of the Pilgrim Missionary Baptist Church.
He is survived by his son, Michael Probus of Gallatin TN, his daughter, Robyn Probus of Nashville, TN, his step-son, Shannon Priddy (Susan) Upton, KY, five grandchildren, Zachary and Zane Probus, Sarah, Shawn and Savannah Priddy, one great-grandson, Dewayne Priddy, two sisters, Brenda Williams (Sidney) of Clarkson, KY and Linda Hayes (Michael)_of North Pole, AK. Several nieces and nephews also survive.
Other than his parents, he was preceded in death by his wife, Juanita, two brothers, Edwin "Sun" Probus and Wilbur "moon" Probus and two infant sisters, Phyllis and Nataile Probus.
Funeral services will be at 1:00 p.m. Friday, (January 15, 2021) at the Dermitt Funeral Home in Leitchfield. Bro. Mike Cannon will be officiating. Burial will be in the Duff Cemetery.
Visitation will be at the Dermitt Funeral Home from 10:00 a.m. Friday until time of services.
Online condolences can be made in the guestbook on our website at www.dermittfuneralhome.com.