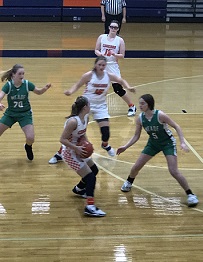 Playing their best basketball of the early season, the Lady Cougars picked up their first win of the year, 49-40 over visiting Meade County Thursday evening in the Cougar Den. The Lady Cougars are now 1-4 on the season.
Senior Rachael Snyder had a great game for the Lady Cougars, pouring in 19 points and making it a double-double night with 15 rebounds. Sophomore guard Aryssa Riggs knocked down three three-pointers to finish with nine points. Senior Ella Robinson scored six points, but grabbed 10 rebounds.
Meade County led once in the first period, 5-4 following a three-pointer by Aubrey Hardesty at the 5:02 mark. The Lady Cougars responded with seven straight points to lead by six, 11-5 with 3:47 remaining in the period. They led by eight points, 18-10 at the start of the second period.
Meade County opened the second quarter with a 12-4 run that tied the game 22-22 with 3:31 left. A three-pointer by Peyton Bradley at the 2:30 mark gave the Lady Waves a three-point lead, 26-23. They led by one, 26-25 at the half.
After Riggs buried a three at the 6:33 mark to put Grayson County back into the lead, Meade answered with four straight to lead 30-28 with 3:51 left. That would be Meade's last lead of the game. The Lady Cougars answered with seven unanswered points to give them a 35-30 lead with 56 seconds left in the period. They led by two points, 35-33 heading into the final period of play.
Leading by three, 38-35 at the 5:47 mark, Grayson County ran off seven straight to take their largest lead of the night, 10 points at 45-35 with 3:03 remaining to be played.
A lay-in by Meade's Mattie Clanton with 1:19 left cut the margin to seven points, 47-40, but Annie Kiper buried two free throws with 1:10 left to provide the final margin of victory, nine points at 49-40.
Kiper finished with eight points, three rebounds, two assists and a steal. It wasn't sure Kiper would be playing in this one after injuring an ankle in the second period of the Edmonson County loss last week.
Junior Raigan Cave scored three points and pulled down eight rebounds. Two players, Sydney Perkins and Brianna Dennis closed out the scoring with two points apiece, and Dennis added seven rebounds.
By Don Brown, Local Sports
Reach Don at donbrown@k105.com