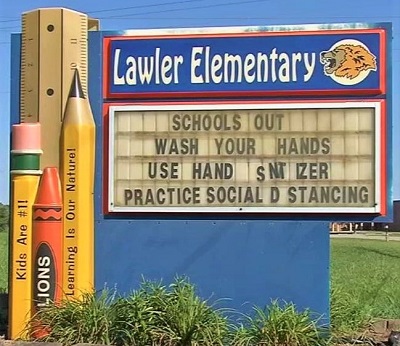 Due to over 50 students/staff members being under quarantine and several positive COVID-19 tests this week, Lawler Elementary School will utilize Non-traditional Instruction next week (Feb.1 – Feb. 5).
Grayson County Schools (GCS) is reporting 38 Lawler students and one staff member are under quarantine due to school-related contacts, with 12 students and two staff members under quarantine due to non-school-related contacts.
Additionally, there are currently eight coronavirus positive people associated with the school: two students and six staff members.
"We are closely monitoring our numbers and will provide you with any updates," Lawler Principal Alicia Brooks said in a statement announcing the school will transition back to virtual learning for next week. "Please monitor your child as always and contact your healthcare provider if your child develops any of the following symptoms: Temperature greater than 100.4: New cough: GI issues (vomiting/diarrhea): New rash: New onset of severe headache, sore throat, running nose or congestion, body aches, chills, or loss of taste/smell."
Between Wednesday and Friday of this week, seven GCS students have tested positive for the virus while six staff members have also tested positive, including five Lawler staff.
GCS currently has 168 people under quarantine: 61 from school-related contacts and 107 due to non-school-related contacts.
By Ken Howlett, News Director
Contact Ken at ken@k105.com