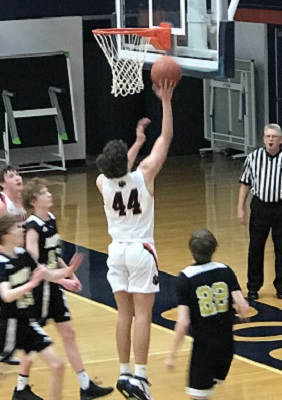 The Cougar boys put three players into double figures Saturday in the Cougar Den as they defeated the North Bullitt Eagles 65-54 to move to 8-3 for the season.
Sophomore River Blanton led the team with 19 points and eight rebounds, while junior Keegan Sharp scored 18 points and added three assists. Junior Chandler McCrady was the third Cougar in double figures with 10 points and he added five rebounds..
The Cougars led by as many as eight points in the first quarter, 10-2 with 3:23 left, but the Eagles closed out the period with an 8-2 run to pull to within two points of the lead, 12-10 heading into the second period.
Leading by four, 17-13 with 5:14 left in the first half, the Cougars got a lay-up from Dillon Horn and back-to-back three-pointers from Sharp to take a 12-point lead, 25-13 with 3:12 left, their largest lead of the game. They led by eight points, 25-17 at the half.
Horn hit a 15-footer opening the second half to give the Cougars a 10-point lead 27-17, but the Eagles answered with a 10-2 run to pull to within two points of the lead, 29-27 with 4:57 left in the period.
A three-pointer by the Eagles' Dalton Geary with 1:57 left gave the Eagles their first lead of the game, 35-32. The two teams were tied 37-37 at the start of the fourth quarter.
The score was tied three more times at the start of the final period of play. Geary scored on a put-back basket with 4:23 left that gave the Eagles a one-point lead, 45-44. That would turn out to be the Eagles' final lead.
Grayson County responded with a 7-0 run to lead by six, 51-45 with 3:44 left, and the Eagles were never closer than four points the rest of the way.
Geary led all scorers in the game with 20 points for the Eagles.
Junior Owen Bratcher came off the bench to score eight points and grab four rebounds. Junior Hunter Tomes scored six points and added four boards. Horn closed out the Cougar scoring with four points.
By Don Brown, Local Sports
Reach Don at donbrown@k105.com