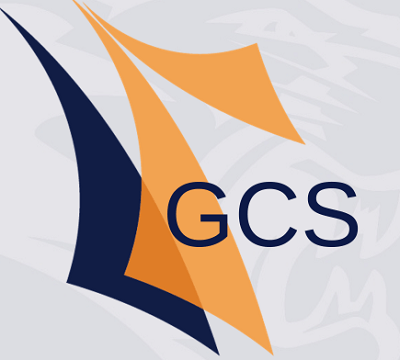 Following Gov. Andy Beshear announcing on Tuesday that he is issuing a new executive order recommending all school districts offer or expand some form of in-person instructional opportunities, Grayson County Schools announced a returned to the A/B hybrid schedule with students attending on alternating Fridays beginning on March 1 until Spring Break, which begins on April 5.
In a letter (found below) to district parents and guardians, Superintendent Doug Robinson said, "Throughout the month (of March) we will begin a transition to bring in additional students for additional days, in a manner that is safe for everyone, and following Healthy at School and CDC guidelines."
"Elementary schools will use a phased-in approach by grade level and/or specific needs," Robinson said. "This process will look a bit different at each school and may begin as early as the week of March 1 for some groups of students."
Grayson County Middle School and Grayson County High School will remain on the A/B alternating Fridays schedule during this time, but will also begin phasing in smaller targeted groups of students for additional days.
"This is due to both larger student numbers at each school and less available space to distance effectively," Robinson stated.
"Schools have already been reaching out to families regarding specific schedule changes for some students," Robinson added. "They will continue to communicate directly with families regarding when they may be able to bring in your child for additional days."
Grayson County Schools March schedule found below.
Click this link to go to the district's Relaunch Page.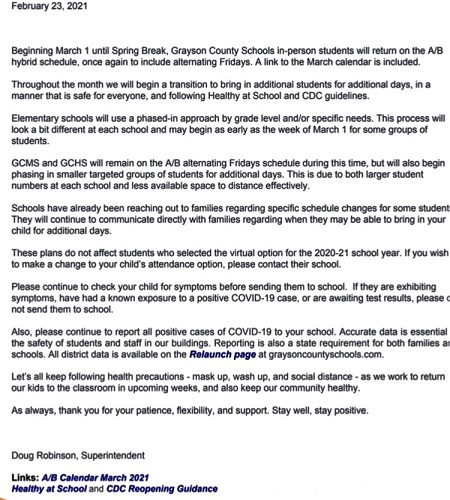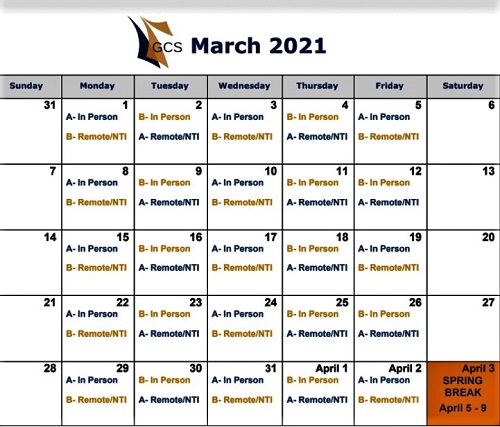 By Ken Howlett, News Director
Contact Ken at ken@k105.com