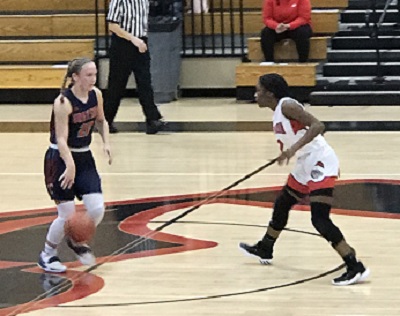 Showing the rust of 17 days off without playing a game, the Grayson County Lady Cougars were embarrassed 70-42 by the John Hardin Lady Bulldogs Tuesday in E'town.
As a team, the Lady Cougars were 7-of-30 from the field, and only two of their field goals were two-point shots. They were 5-of-11 from behind the arc and shot 23-of-29 from the foul line.
The Lady Cougars got off to a slow start, not hitting their first points until the 3:27 mark of the first period, when freshman Sydney Perkins buried a three-pointer. They trailed by seven, 19-12 at the end of the first period.
When Rachael Snyder hit two free throws to open the second period, the Lady Cougars trailed by five points. That would be as close as they would come to the lead the rest of the game. Grayson County trailed by 13 points, 36-23 at the half.
Grayson County scored just eight points in the third quarter, six of them from the foul line, and trailed by 25 points, 56-31 heading into the final period of play.
John Hardin put four players into double figures, led by Destini McAllister with 18 points. Jayden Young scored 17, Sharon Tidwell had 12, and Quiona Clay added 10.
Perkins and Snyder led the Lady Cougars with 10 points apiece, and Snyder led the team on the glass with six rebounds. Gracie Franklin came off the bench in the fourth period to pump two three pointers through the basket for her six points.
Aryssa Riggs scored four points, while Coray Milam and Annie Kiper both scored three. Ella Robinson, Brianna Dennis and Raigan Cave closed out the scoring with two points each.
By Don Brown, Local Sports
Reach Don at donbrown@k105.com